EDSO Inspection EC Bowling 2018 in Munich
Date: 11. Mai 2017
We had an inspection in the bowling hall Dream Bowl Palace little outside of Munich. A very nice and European biggest bowling centre with 52 lanes.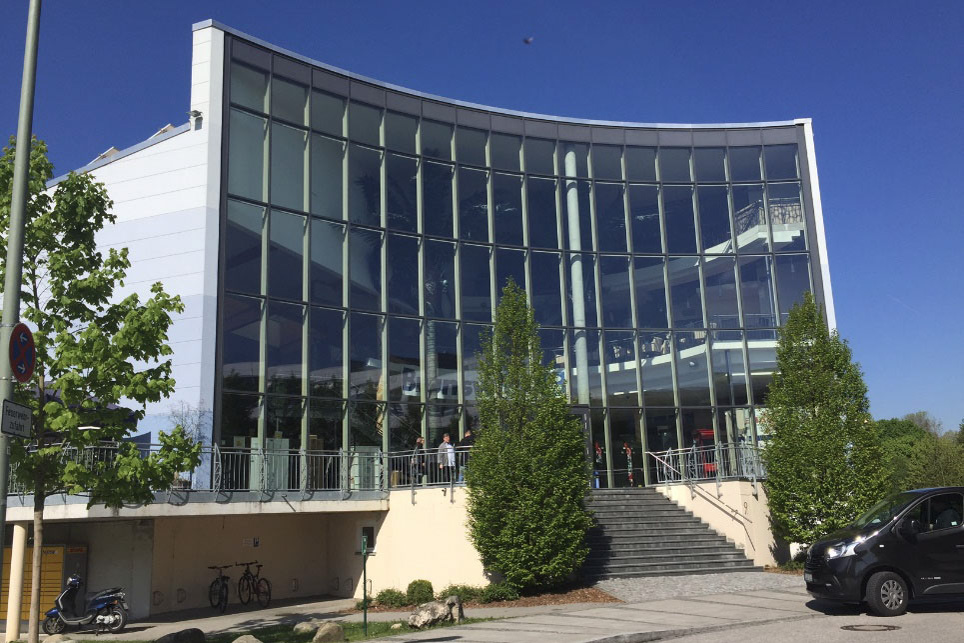 Dream Bowl Palace
We had first a meeting with Martin Knöbl, Center Manager. I must say this was a very positive meeting and Martin was very helpful with questions and show around the bowling center.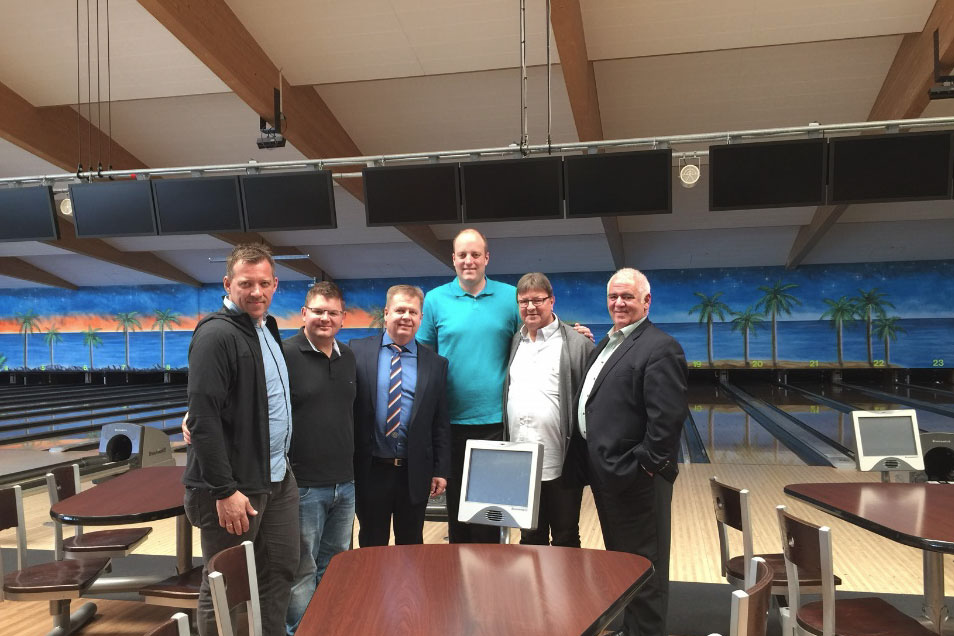 From left: Andre Brändel, Lars Neuhaus, Stein Erik Wroldsen, Martin Knöbl, Rainer Kühn and Josef Scheitle.
From EDSO was TD Stein Erik Wroldsen. From OC was Rainer Kühn, from German Deaf Sports Federation was Andre Brändel, Lars Neuhaus and Katja Kluttig. Josef Scheitle will be responsible for hotels and transport.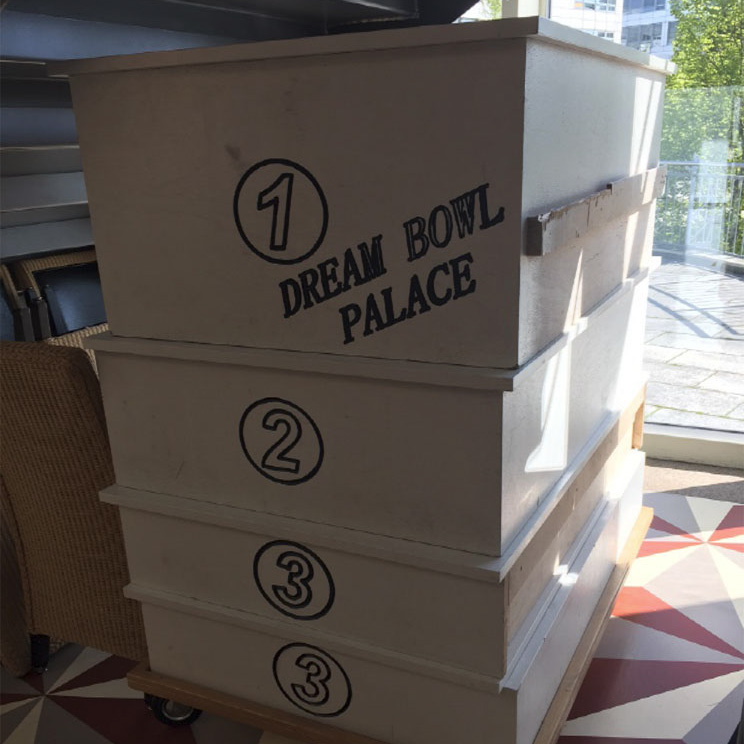 Podium for medalceremony
We had also had meeting at our hotel to prepare for next day with the Bowling Center.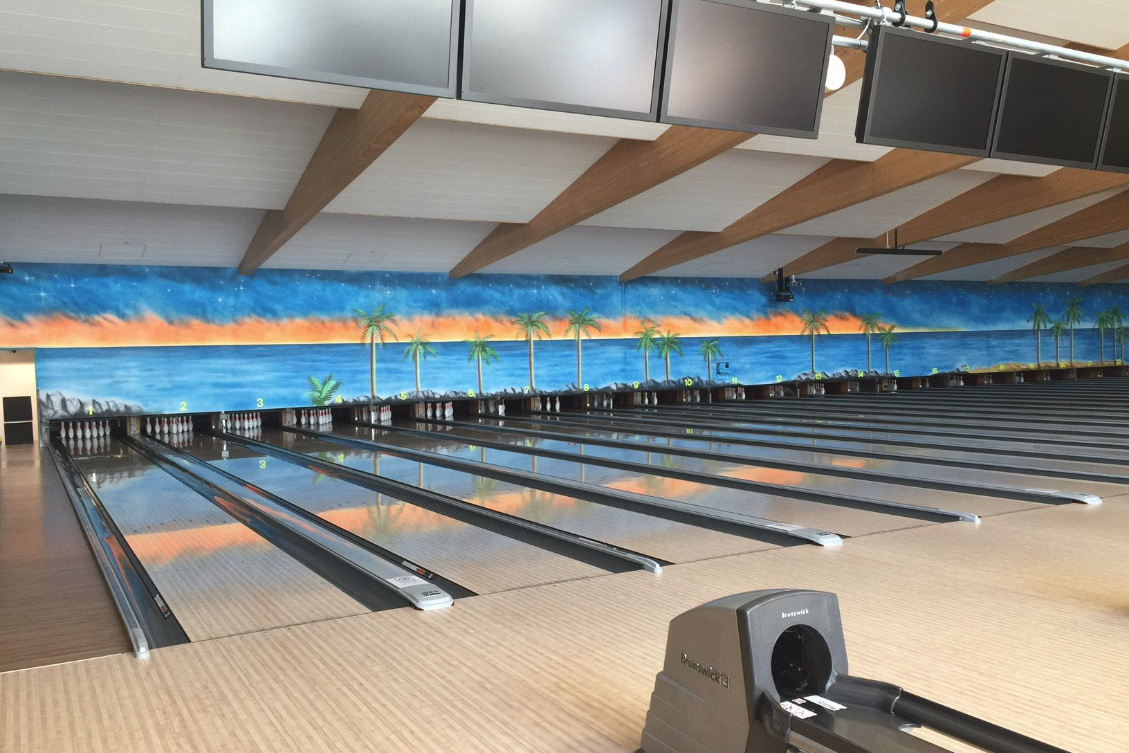 Lanes
We discussed about the date of EC. There was problems with full and expensive hotels in the period 17.-26.May 2018. The hotel price was around triple of the normal because of IT messe in Munich.
The OC wanted to postpone the EC with one week to 24.May to 2.June 2018. We asked the Center Manager Martin Knöbl and he was positive about that.
The new date is 24.May to 2.June 2018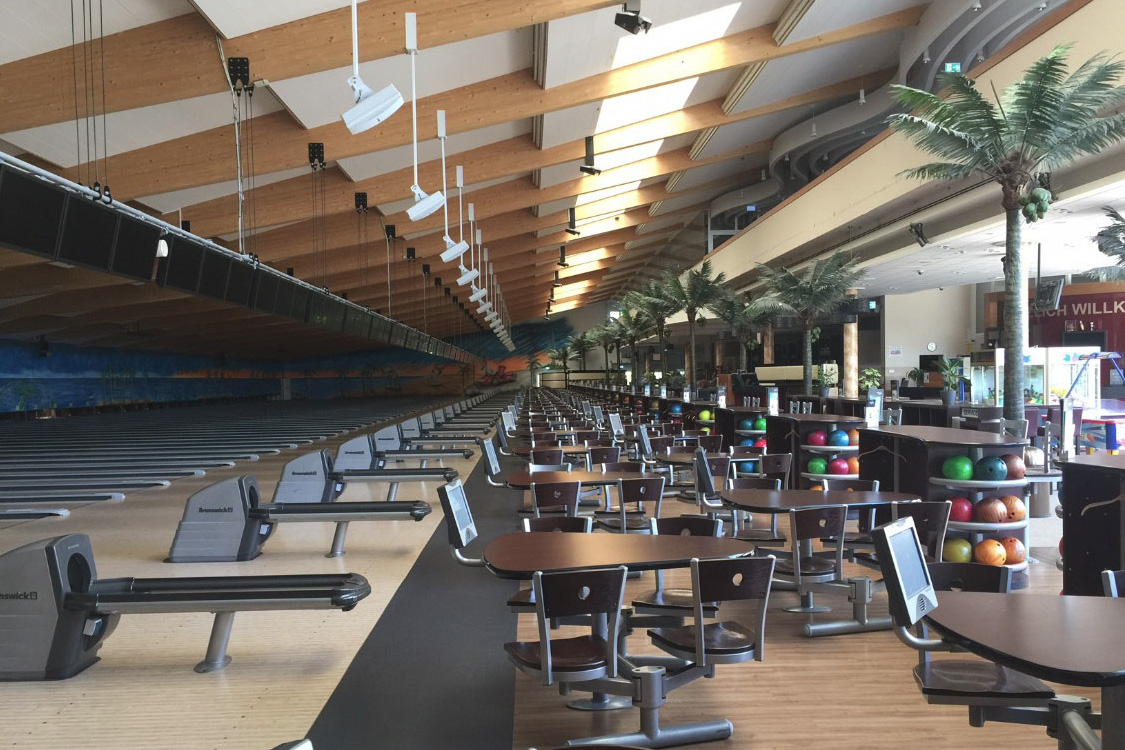 52 lanes!
We will have 44 lanes for the EC, and can expand to 52 lanes if needed.
The OC and EDSO representative and TD will have a big room at the end of the hall for office, media and staff. The OC will set up wifi zone for EDSO representative, TD, OC and staff. All players, coach and other will use the basic wifi from the hall.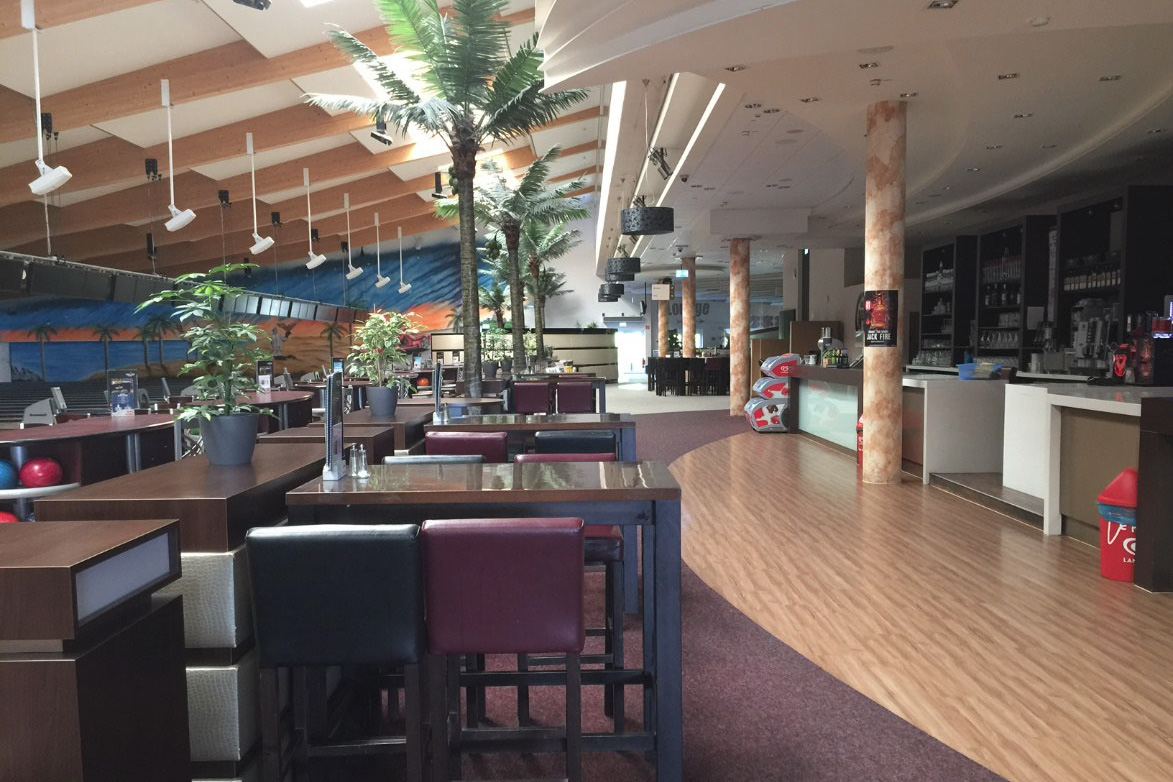 Café area
There will be live score during the EC, so all fans can follow the scores from home. OC will try to set up live stream. Results will be updated right after each squad.
The OC will also have a website for EC, will be published in Bulletin 1. The podium is looking very good and have room for 6 athletes from each country. At the ground floor, there is good service of food and drinks to all.
At second floor, there is a big restaurant area, there will be both TD meeting in the beginning and end of EC. The restaurant area will be used as ball storage room and must be cleaned before the farewell party and have room for 400 persons.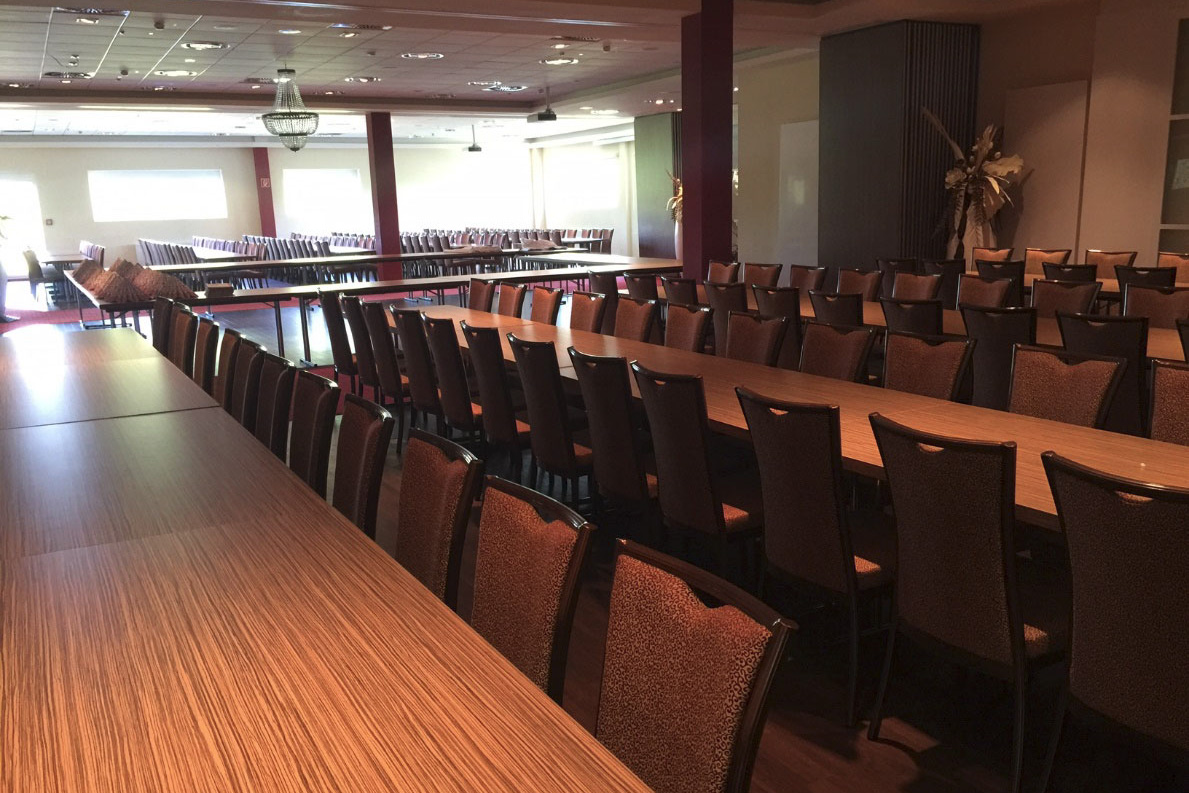 TD meeting room and Farewell banquet, also use as ball storage at back.
At third floor is proshop and will be open during the EC and they can help players with their equipment. Dopingcontrols will be at the big handicap WC and have back up at second floor. The OC will contact the NADA in Germany about how many test they will take. Audiogram control is planned and the OC will check about actual hearing test places in nearby. There is garage at the basement and can park car there. OC will provide a good group of staff and referee.
Ball control All players must check their ball at their homecountry, with their local proshop for weight and damage. There will be no ballcontrol in the Bowling Center, because of too many players and balls and less of time.
Pro shop
There will be only visual inspection regard to material, surface, plugs etc. Championship oil-patterns The pattern length to be used in the EC 2018 has not been decided yet. Participating federations will be informed in bulletin 2 about the decision of the pattern length. According to ETBF rules, the pattern will be published at the TD Meeting.
The Dream Bowl Palace have a long experience with many big tournaments through several years as World Championships, European Championships.
We were satisfied with the meeting and looking forward to a succesful Championships in 2018.
Hotels
After the inspection of Dream Bowl Palace, we had a lunch before hotel inspections. We visited three hotels. All hotels meets our requirements. The head hotel will be Park Inn for EDSO representative and OC. There will also be accessible for other countries.
EDSO and OC office
All hotels are in three levels of price. OC will provide transports from hotel to Bowling hall and airport. All hotels are within 5-10 minutes with car and 15-20 minutes walking to bowling hall.
Distance from airport to these three hotels will be around 30 minutes driving.
Stein Erik Wroldsen
EDSO Technical Director Bowling